Healthcare Facility Design Details
Following are details of our work in the Healthcare industry. View related projects >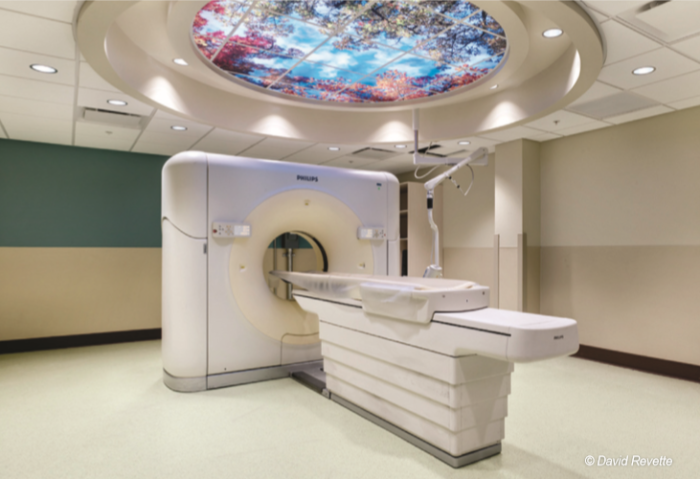 Design Process
Pre-Schematic - M/E Engineering works with the facility staff and architects early in the process in order to develop the project programming, scope of work, space requirements, and budget, helping to prepare the Certificate of Need (CON) submission to the Department of Health (DOH).
Schematic Phase - The Design Criteria is established, including clean room design. Healthcare engineering infrastructure requirements are vetted out in more detail, mechanical and electrical space requirements are studied and a detailed scope report with appropriate options is provided with an Opinion of Probable Construction Cost. The Schematic Design Phase allows the owner and the project team to confirm that all of the project goals are being met. Potential long lead items are identified and preprocurement options are evaluated. Energy Saving opportunities are identified and government/utility company rebate applications are initiated.
Construction Documents - Detailed drawings and specifications present a clear understanding to the contractors for pricing and installation. Design Development documents are provided for DOH review and approval. Constructability and Phasing are key issues that are addressed in order to assure the work can be performed in a facility that needs to provide continuous care and infection control 24/7.
Construction Phase - M/E Engineering is very active throughout construction with shop drawing review, field observations, meetings, punch lists, hospital HVAC, DOH walk-though and commissioning as well as any post-construction follow-up as necessary.
Sustainability
Our designs are tailored to each client's needs. We'll provide sustainable building design and sustainability consulting for LEED certified buildings. Every design and engineering solution focuses on energy efficiency, sustainability, return on investment, and budget. In addition, M/E Engineering has helped our clients secure millions of dollars in government and utility incentives for implementing energy efficiency measures and reducing their operating costs, emissions, and carbon footprint.
MEP Requirements
Healthcare Facilities have a wide variety of mechanical and electrical requirements to satisfy their unique environmental and clinical needs. They must be designed and coordinated to be, cost-effective, sustainable, easily maintained, and energy-efficient. These requirements include the following:
HVAC - Temperature, Humidity, Indoor Air Quality, Odors, Filtration, Noise, Vibration, Space Pressurization, Minimum Supply Air Changes, Minimum Exhaust Air Changes, Minimum Outdoor Air Changes, and Total Air Changes
Plumbing/Fire Protection - Domestic Water, Medical Gases, Medical Air, RO/DI Water, Infection Control, Water Filtration, Vacuum, Oxygen, Nitrogen, Nitrous Oxide, Carbon Dioxide
Electrical - Electrical Power, Emergency Power, Branch Circuiting, Lighting Types/Levels, Lighting Controls, Fire alarm, Nurse Call, Telemetry, Tel/Data, Intercom, Paging, Security/Access Control/CCTV, Short Circuit and Coordination, Arc Flash
Commissioning
As required by the New York State Energy Code and FGI Guidelines, M/E Engineering, P.C. offers full Commissioning Services addressing HVAC, life safety, direct digital control, specialty plumbing and electrical distribution systems. Our services encompass all commissioning tasks from initial design review, commissioning plan development, checklists and functional test procedure completion, on-site performance testing, Department of Health interface, to ensure systems and buildings operate efficiently and as intended for future generations.
Healthcare Codes and Standards
There are a significant number of codes, standards, and design guidelines that will be used to present recommendations for system selection and sizing parameters. Listed here are several of the most commonly reference standards.
FGI Guidelines for Design and Construction of Hospitals
FGI Guidelines for Design and Construction of Outpatient Facilities
FGI Guidelines for Design and Construction of Residential Health, Care and Support Facilities
ANSI/ASHRAE Standard 55 – Thermal Environmental Conditions for Human Occupancy
ANSI/ASHRAE Standard 62 – Ventilation for Acceptable Indoor Air Quality
ASHRAE 90 – Standard for Energy Conservation in New Building Design
ASHRAE Handbook, HVAC Applications – Hospitals and Clinics
NFPA 99 Health Care Facilities
NFPA 101 – Life Safety Code
NFPA 110 – Standards for Emergency and Standby Power Systems
NFPA – Health Care Facilities Handbook
NFPA 72 - Fire Alarm and Signaling Code NEC (NFPA 70)
Labs 21 Design Recommendations
AAMI-ST-79 - Comprehensive Guide to Steam Sterilization and Sterility Assurance in Healthcare Facilities
USP 800 - Hazardous Drugs-Handling in Healthcare Settings
CFD Applications in Healthcare Facility Design
Operating Room air distribution and contaminant control
Pharmacy Clean Room ventilation effectiveness
Isolation Room/Lab fume exhaust discharge
Emergency Generator/Boiler exhaust fumes
Building Wind Wake Analysis
Outside Air Intake contamination
Cooling Tower water vapor discharge
Helipad impact on OA Intakes
Parking Garage Dilution Ventilation
Contact M/E Engineering for more information on our Healthcare Facility Design Solutions.