Industrial & Manufacturing
Facility Engineering Services
M/E Engineering, P.C. understands the range of unique indoor environmental conditions required for modern manufacturing and process design. Our long-term relationships providing MEP engineering services to many industrial clients as part of their team allow us to keep up with facility changes and demanding infrastructure requirements at each site. From commercial grow room design to optical design and consulting, we can assist will all your industrial engineering needs.
---
With the focus on productivity and profitability, our ability to deliver an on-budget, on-time MEP engineering design is critical to the success of the project.
To accomplish this, we start with clear communication and a solid understanding of the project requirements. Working with the team (Owner/Architect/Construction Manager/Specialty Consultants), a Schedule of Area Requirements "SAR" is developed. This defines the space requirements from the onset and includes specific MEP needs such as:
Temperature Requirements
Humidity Limits
Specialized Exhaust Requirements
Filtration Levels/Cleanroom Classification
Power Requirements/Clean Power Needs
Compressed Air/Vacuum
Equipment Utility Services
Infrastructure Upgrades
Lighting Levels
Communication/Security Needs
Specialized Gases
Steam/Chilled/Hot Water
The SAR can be an effective tool to assist the Owner in understanding what affect various space requirements will have on the overall project budget and schedule. Therefore, the SAR is continuously updated during the design process and assists the team in meeting owner expectations.
Computational Fluid Dynamic (CFD) Modeling
M/E has the unique ability to further analyze the space needs through CFD modeling. Our 3-D modeling services including Revit 3D modeling, allow M/E to design efficient, safe, and cost-effective solutions for the specialized design challenges of our industrial clients.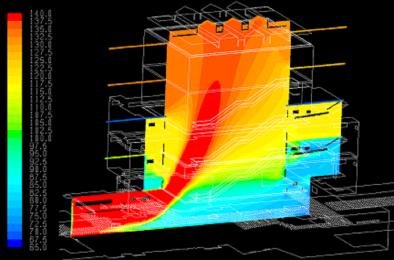 ---