Our Vision
Healthcare Facilities are frequently changing to meet industry trends, new technology and changing demographics. M/E Engineering has built long term relationships with many hospitals and healthcare systems as part of their team in keeping up with these changes and demanding infrastructure requirements providing; long term planning, feasibility studies, energy studies, construction documents, construction administration, design-build and fast track construction.
Our staff has been certified by the American Society of Heating Refrigerating and Air Conditioning Engineers (ASHRAE), in Health Care Facility Design and are national members of The American Society for Health Care Engineering of the American Hospital Association (ASHE). We are dedicated to optimizing the heath care physical environment.
It is through this varied experience, we are able to provide designs that are uniquely matched to the users' needs. Additionally we also possess the capability to further analyze project needs through Computational Fluid Dynamic (CFD) Modeling. This helps to insure our designs are efficient, cost effective and perform for the patient and healthcare provider.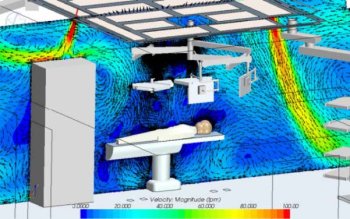 Insight & Added Value
The use of
CFD Modeling
not only has allowed our staff to analyze specific issues, but it has also provided insight and added value to our design process anticipating and reacting to the complex environment, allowing us to engineer successful project results. We are actively involved in research to help develop design tools that will aid in not only the initial layout of the facility, but will aid in the operation of these spaces both from an energy as well as infection control standpoint.
---