Celebrating 30 Years!
M/E gets the spotlight in the January edition of The Rochester Engineer.
2022 marks the 30th Anniversary for M/E Engineering P.C. and we are thankful for all of our great employees, loyal clients and trusted partners that have helped us along our path to success.
---
Learn More About Our Journey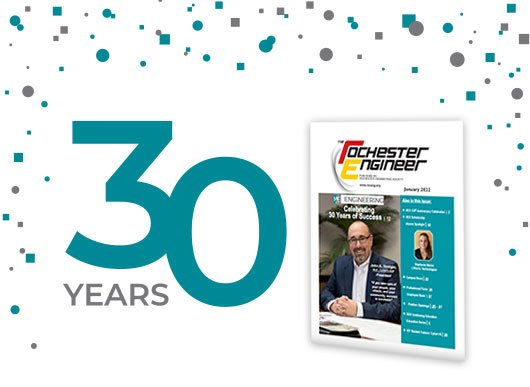 MEP Design Engineering
M/E Engineering is a full-service engineering firm specializing in MEP design engineering and technology services. As a top engineering firm, for over 30 years, our team of nearly 200 engineers and design professionals have worked across the Northeast to create built environments that support a sustainable future for the communities we live in, work in, and care deeply about.
Ingenuity is reflected in all the markets we serve including Education, Gaming & Entertainment, Government & Institutional, Healthcare, Residential, Industrial & Manufacturing, and Research & Laboratories.
Explore recent projects, case studies and discover what a difference M/E Engineering makes when we get involved.
Jun 13, 2022
Our Engineering Co-op Program is a win-win for all involved! Meet our latest round of talented co-ops, joining us from prestigious engineering…
May 5, 2022
We offer a wide range of commissioning and retro-commissioning programs for educational, industrial, municipal, governmental, health care, corrections…
Apr 5, 2022
"I can't think of a single day I dreaded going to work!" Ron Mead Words spoken by a truly passionate man who helped build this multi-million dollar…
Elevating standards
with every engineering
project we touch
We were one of the first 100 members of the United States Green
Building Council and have a dedicated focus toward efficient,
sustainable building design.