Celebrating 30 Years!
M/E gets the spotlight in the January edition of The Rochester Engineer.
2022 marks the 30th Anniversary for M/E Engineering P.C. and we are thankful for all of our great employees, loyal clients and trusted partners that have helped us along our path to success.
---
Learn More About Our Journey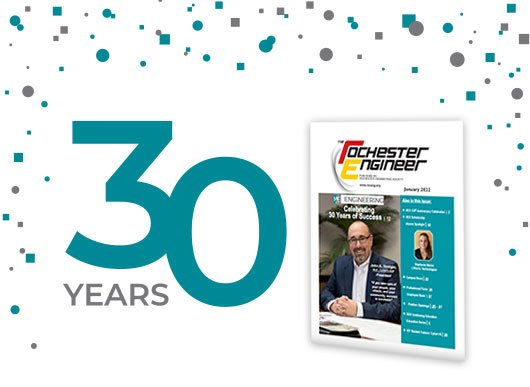 MEP Design Engineering
M/E Engineering is a full-service engineering firm specializing in MEP design and technology services. For over 30 years, our team of nearly 200 engineers and design professionals have worked across the Northeast to create built environments that support a sustainable future for the communities we live in, work in, and care deeply about.
Ingenuity is reflected in all the markets we serve including Education, Gaming & Entertainment, Government & Institutional, Healthcare, Residential, Industrial & Manufacturing, and Research & Laboratories.
Explore recent projects, case studies and discover what a difference M/E Engineering makes when we get involved.
Jan 6, 2022
We are very honored to get the spotlight in this month's edition of The Rochester Engineer. 30 YEARS IN THE MAKING M/E Engineering started out with…
Oct 6, 2021
M/E Engineering is your source for MEP design & CFD modeling services for your next Hospitality / Gaming / Entertainment project. We've…
Sep 2, 2021
Explore a sampling of recent SUNY projects that embrace innovative design practices from historic preservation to Net Zero goals. "The higher…
Elevating standards
with every engineering
project we touch
We were one of the first 100 members of the United States Green
Building Council and have a dedicated focus toward efficient,
sustainable building design.