Jul 19, 2017
25 Years in the Making
M/E Engineering, from humble beginnings to a quarter century of business. 25 years ago the firm started out with four guys in a single room with lofty dreams of building a firm with as many as 30 people based on quality people, quality work, and providing "Value Driven Solutions" for their clients. Today with a staff of nearly 200 design professionals, M/E Engineering maintains a consistent ranking as one of the Consulting Specifying Engineer Magazine's "Giants 100 List" for the top MEP Design firms in the U.S.
---
The Secret to Success
It is often stated that the key to success is "Location, Location, Location". However, when building one of the top engineering firms in the US it is rather "People, People, People". Every motivational speaker will tell you to always surround yourself with good people. This is only half the story. Not only do you need to surround yourself with good people but you need to give those people the opportunity to demonstrate every day why they are good people. True success is not about projects, revenue, aged accounts, billings, etc. These are simply the score card for measuring success. It starts with fundamentals that are much deeper. It's about seeing through the haze of the business "stuff" and getting down to the fundamentals. True success embodies the fundamentals of hiring good people, allowing them to reach their potential, treating everyone fairly and creating a caring family atmosphere where everyone is appreciated, respected, and considered an integral part of the team. Every successful project, whether you are designing a state-of-the-art Platinum LEED Building or building an engineering firm, starts with a great Team. M/E Engineering's key to success is very simple, we built the best Team.
Mechanical/Electrical Engineering at its Core
Engineering is a wonderful profession. The application of Math and Science allows engineers to create useful products, change the built environment, and provide shelter and working environments for the world's population. Few professions allow you to make a notable difference in the environment more than the construction industry. Projects including hospitals, colleges/universities, K-12 schools, housing, retail spaces, recreational and industrial projects support the people of all nations. The challenge moving forward is providing these environments in a manner that doesn't have a negative impact on our children and grandchildren. Sustainability at its core.
Moving Forward
Twenty-five years ago projects were hand drawn with ink on Mylar and CAD was something people talked about, but not developed to the point of being useful. Now M/E produces full 3-D coordinated BIM models with clash detection, energy modeling and integrated computational fluid dynamic (CFD) modeling applied to the BIM models. The advancement of technology has revolutionized the industry. On the cutting edge, CFD modeling allows M/E to create dynamic models of ventilation air patterns, temperature/ humidity gradients, cleanroom effectiveness, enhanced lab safety, simulate industrial process environments and model fire/smoke events. The engineer can now apply the best practice design principles and model their effectiveness with real time BIM models. Truly amazing.
---
Each year M/E Engineering is involved in over a billion dollars of construction activity, all while maintaining a commitment to sustainable design, energy efficiency and "quality-driven solutions". The ability to have a major impact on long-term owning and operating costs to the local region is second to none. 2016 was no different as M/E started design or construction on a number of high profile jobs:
500 Pearl Street Apartment Building

AP Loft Apartments

Binghamton University Energy Research + Development Building

Brandeis University Sherman Hall Renovations

Buffalo State College - Butler Library Renovations and Upton Hall - Mechanical Systems Upgrade

Cheektowaga Central School District - 2016-2017 Capital Project

Colonie Eye Surgery Center

DePaul - Rochester View Apartments

Erie County Medical Center - OR Expansion and Medical Office Building Buildout

Greatbatch Mexico - Project Corona, Mexico

Hobart & William Smith Colleges Performing Arts Center Addition and Renovation

Jewish Senior Life - Renovations and Additions

Mercy Hospital of Buffalo - Electric & Absorption Chiller Service Upgrade

Monroe Community College - Downtown Campus Project

Montreign Resort Casino, Monticello, NY

Nazareth College - Jane and Laurence Glazer Music Performance Center

New York Presbyterian Hudson Valley Hospital:




Medical Office Building Renovation

Boiler Replacement

Chiller Plant Upgrades

HVAC Infrastructure Upgrades

Radiology Renovation
Oswego State University College - Tyler Hall

Pioneer Central School District - 2016-17 Capital Project

Regeneron Office Building Lab Renovation

Rochester City School District - James Monroe High School Modernization Project

Rochester Regional Health - Rochester General Hospital - Facility Infrastructure Upgrade

Saratoga Casino and Raceway Additions

Seneca Niagara Resort & Casino, Niagara Falls

Sibley Building - High Rise Renovation Project

Springville-Griffith Institute Central School District 2018 Capital Project

New York Medical College Energy Projects

NYPA - Downstate Correctional Facility - Boilers and Chillers

OGS - Green Haven Correctional Facility Rehabilitation

Saratoga Hospital Imaging Department Renovations

Schenevus Central School District Capital Project

St. Peter's Health Partners - 6 Story Inpatient Pavilion

SUNY Purchase - Music Building HVAC Modifications

Syracuse University - National Veterans Resource Complex

University at Albany - Lighting Master Plan Implementation

Wegmans Food Market, Lancaster, PA

Saratoga Springs Central School District Bond Project
Giving Back
At its core, the commitment to the people of our organization, the people of our community, and to future generations mandates that we give back to the people who have been integral to the success of M/E Engineering. To that end, M/E Engineering has been involved in the following to help make our community a better place for all who live here:
M/E Engineering's Rochester Office supports the following:
M/E Engineering Scholarships assist mechanical and electrical engineering students at RIT and MCC learn and become the future engineering leaders of tomorrow. A preference is given to RCSD graduates who may not have been able to afford the cost of this education on their own. These programs have been in place for over 15 years.
M/E Engineering Scholarships at Binghamton University helps women and minorities obtain success in this sector of the engineering community.
Continued fundraising support for the MCC Foundation and RIT's Nathaniel Rochester Society.
Sponsor of the RCSD Green Schools Program which provides funds for providing information to students and staff regarding energy usage and conservation.
Corporate sponsorship for the annual United Way Campaign, the Strong Museum, the Rochester Museum and Science Center, the Hochstein
School of Music, Lollypop Farm and numerous K-12 School District functions.
Sponsorship of RIT's Innovation and Creativity Festival.
Support of the Rochester International Jazz Festival since its inception.
Support of our local Health Care agencies that provide care and support for those that reside in our community.
Support of several agencies that assist those members of our community who have developmental issues.
M/E Engineering's Buffalo's Office supports the following:
Support of the Buffalo Sabres Alumni Holiday drive and the Ronald McDonald House through donations and Board Participation.
Participation in the J.P. Morgan Corporate Challenge -- promoting health and fitness in the workplace and commitment to the community and best environmental practices.
Participation in the Ride for Roswell in support of cancer research.
Support of the following through various events and fundraisers:

The Buffalo Zoo
United Way Campaign
Hospice Buffalo
Catholic Health Hospitals and Facilities
Kaleida Health Hospitals and Facilities
AIA Buffalo - WNY Arch Run
Buffalo/Niagara Blues Festival
Sponsor for various College and Public K-12 Districts
Corporate Sponsor for Shea's Performing Arts
M/E Engineering's Schenectady Office supports the following:
A.O. Fox Hospital
Loretto Assisted Living
Massena Hospital
New York Presbyterian Hudson Valley Hospital
Proctors Arts in Education
Ronald McDonald House Charities
Sage College Scholarship Fund
Schenectady County Community College
Skidmore College Palamountain Scholarship
St. Peter's Health Partners
YMCA Schenectady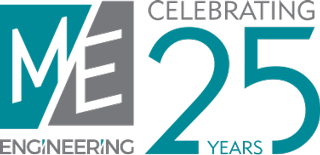 M/E Engineering would like to thank all of our clients. Their continued support of M/E Engineering, confidence in our staff, and for giving us the opportunity to be part of their design teams has been amazing. Simply put, we would not be where we are today without the continued support of our clients. We also want to thank our employees for their continued efforts in expanding our reputation throughout the Eastern United States. The partners at M/E Engineering are greatly indebted to and thank our great staff. Due to their extraordinary effort, attention to detail and belief in the family we call M/E Engineering, our sustained growth has been possible. Their continued dedication and commitment is unprecedented and we are eternally grateful.