Sep 23, 2020
M/E Engineering is pleased to announce our newest Partners, Melanie Stachowiak, P.E., LEED AP BD+C, CMVP and Garrett Donals, P.E.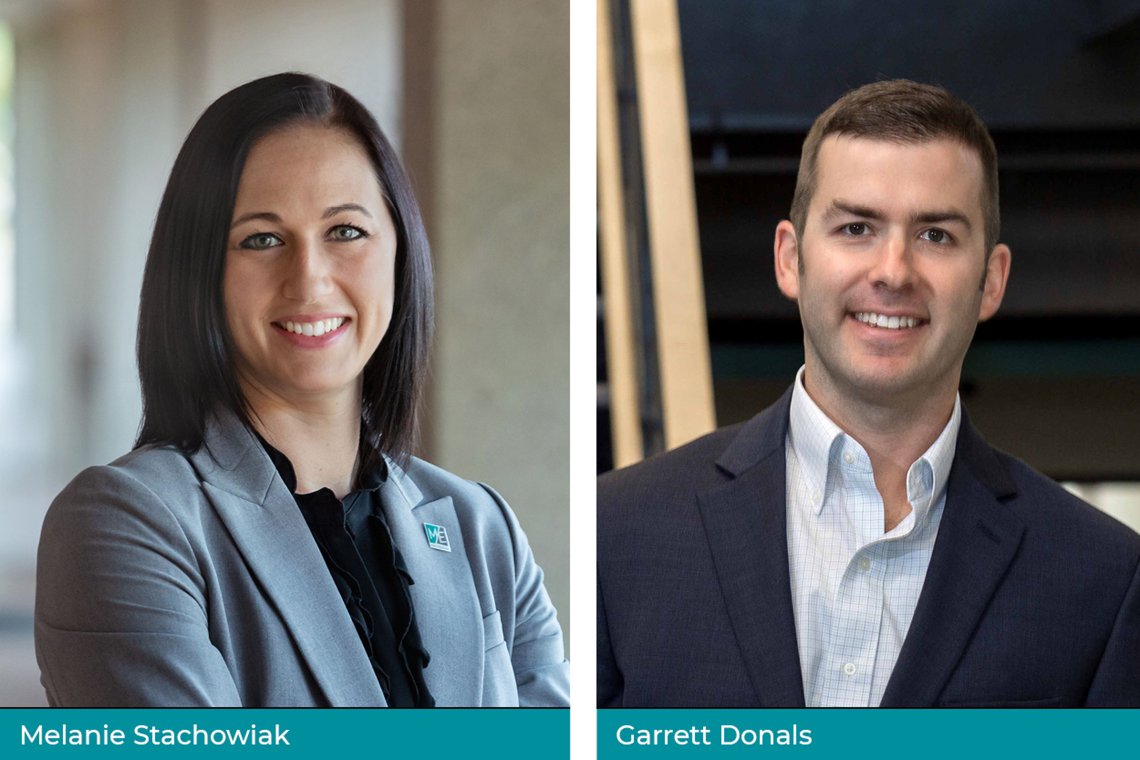 Melanie joined M/E Engineering in 2011 as a Senior Energy Engineer in the Sustainability/Commissioning group. She holds a Bachelor of Science in Mechanical Engineering from Clarkson University, and is a LEED Accredited Professional.
Throughout her career at M/E Engineering, Melanie has continued to advance through the Energy/Commissioning Group and has worked on many energy analysis projects as well as managed projects in the Higher Education and K-12 markets. Her passion for energy efficiency and the advancement of technical analysis as it relates to sustainability has made her a leading resource for both M/E's clients and staff.
Melanie will soon transition into the management of our firms Sustainability/Commissioning Group and select College/University clients. She will undoubtedly carry on the tradition of professionalism and accurate and beneficial solutions for our clients as the world becomes ever focused on sustainability, net zero, and more energy efficient structures across all markets.
"Having worked with Melanie over the last several years I have come to appreciate not only her professionalism and technical expertise, but her commitment to the quality and constructability of each project she is associated with. That skillset is exactly what makes her an asset to the ownership team." Bill Liberto, Vice President
Beyond her professional interests lies Melanie's enjoyment of the outdoors. During her time off, Melanie can often be found at any one of the local lakes or rivers with her favorite fishing partner and husband, Matt.
---
Garrett joined M/E Engineering in 2008 as a Design Engineer. He holds a Bachelor of Science in Mechanical Engineering from Syracuse University.
Throughout his career at M/E Engineering, Garrett has continued to advance through the mechanical engineering department and has worked on several high profile projects at Cornell University as well as Syracuse University. During his 13 years designing and managing projects at M/E, he has provided solutions for educational, healthcare, industrial and food processing facilities throughout the Northeast.
"Garrett's tenacious work ethic, positive demeanor, and dependability have become a valuable asset to our team. His strong technical background has been invaluable in assisting clients to successfully complete complex projects on time and in budget. His leadership qualities and commitment to guiding our staff has had an impact on M/E Engineering's success. We are extremely excited to have these talents now a part of our leadership team." - John Dredger, President
Garret lives in Mendon with his wife Chelsea and their two children. He loves outdoor activities especially hunting and golf. Above all, he loves spending time with his family and friends.