Jul 4, 2016
The Erie County Medical Center Chilled Water Plant receives a much needed upgrade, reduces annual energy consumption 46%.
ECMC is a regional center for trauma, burn care, transplantation, and rehabilitation, and is a major teaching facility for the University at Buffalo. The campus houses an advanced academic medical center with 550 inpatient beds, health centers, more than 30 outpatient specialty care services, and Terrace View, a 390-bed long-term care facility.2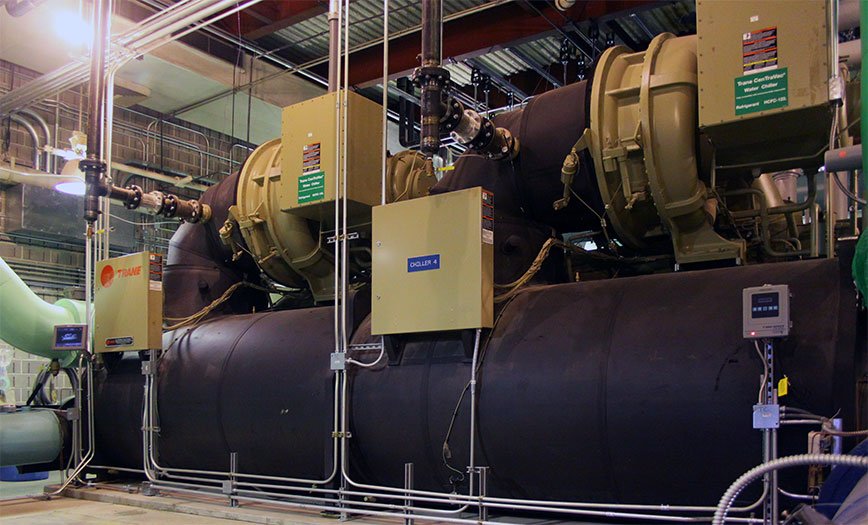 Client Challenge
In 2009, subject to recommendations by the New York State Commission on Health Care Facilities in the 21st Century, and in collaboration with Kaleida Health, Erie County Medical Center (ECMC) planned to reorganize its clinical services provided at their campus. Three new buildings would expand the campus by 400,000 square feet, a 40% increase in square footage, for a total campus area of 1,400,000 square feet. M/E Engineering, P.C., was asked to evaluate campus utilities and recommend solutions to optimize ECMC's energy efficiency investments.1
Proposed Solution
M/E Engineering recommended a replacement and upgrade plan designed to support both impending and future building expansion, with improved reliability and redundancy. Increased efficiency would translate to energy savings and qualify for NYSERDA incentives. A significant challenge was to complete the project on the aging infrastructure of a fully functional hospital and trauma center with no significant plant interruptions.
Upgrade Plan
Existing Chilled Water Plant equipment ranged in age from 37 years (original equipment) to 16 years old. The existing 4,800-ton Chilled Water Plant was upgraded with the addition of two 2,400-ton chillers, bringing the total plant capacity to 7,200 tons, and improving efficiency, and redundancy.
All cooling towers were replaced with highly efficient, water saving, variable speed cooling towers.
---
An important feature to this complete overhaul is a more intelligent plant management system with state-of-the-art valve control system and a Siemens "Demand Flow" all variable speed plant control system.
The M/E Engineering solution was a total plant optimization strategy with sophisticated energy management tools, resulting in increased capacity and a decrease in overall maintenance and operating cost. The chilled water distribution system upgrades optimize the operation of the plant by modulating all components, and by varying the flow and temperature of chilled water being pumped based on seasonal temperature and humidity conditions, and internal building loads.3
A total of 18 primary and secondary chilled and condenser water pumps were replaced and the pumping system was converted to an all variable flow system including conversion of existing air handling unit 3-way control valves to new 2-way pressure independent valves. The control system for the entire Chilled Water Plant, including condenser water pumps and cooling towers was also upgraded to include a demand flow plant optimization control sequence.
The addition of a heat exchanger to act as a waterside economizer, provides the ability for the plant to achieve "free" cooling when the outside air temperature is 34°F or colder. In its first year of operation, the plant was able to meet the chilled water needs of the hospital without operating any chillers for over 950 hours, and that number is expected to increase to 1,500 hours annually.
---
Waterside Economizer "Free Cooling" Heat Exchanger

The entire project was completed with no extended downtime of the plant, over a one year period, from 2012-2013.
The plant upgrades have been operational for over a year. As part of the NYSERDA incentives program, detailed measurement and verification was required in order to document or confirm the results of the implemented energy improvements. A summary of the results indicate that the projected savings are being achieved as planned. NYSERDA (New York State Energy Research and Development Authority) incentives granted for the Chilled Water Plant totaled over $1 million.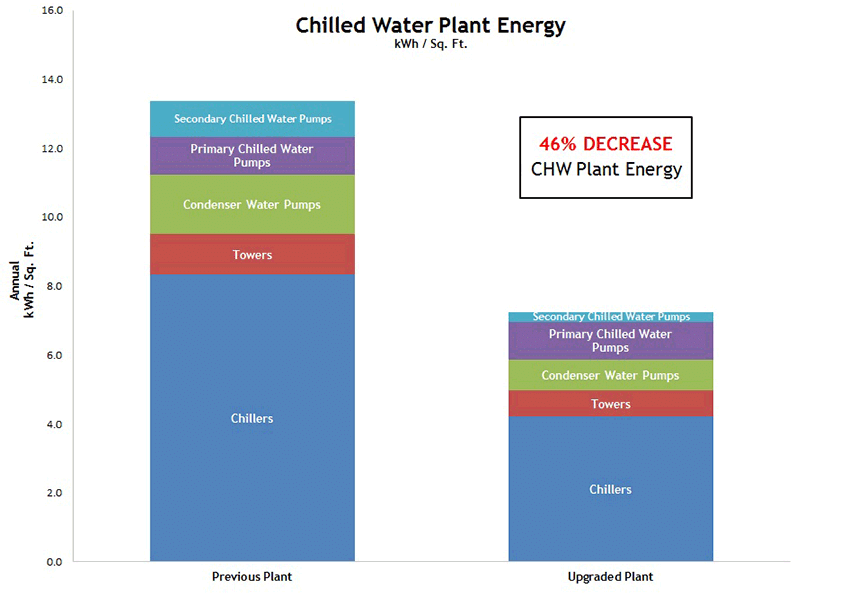 Annual Energy Usage Was Reduced by 24%
The new ECMC Chilled Water Plant expansion and energy efficiency measures designed and implemented by M/E Engineering project to an annual energy savings of $170,000. During the first 12 months after implementation the chilled water plant's annual energy usage was reduced by 24%, while serving a 40% larger campus with a plant peak tonnage demand that increased by 17%. Overall energy expense of annual kWh per square foot for cooling has been cut by 46%.
Kevin M. Madoo, P.E., Director of Plant Operations, ECMC Corp., said, "NYSERDA's assistance allowed us to install state-of-the-art, low energy consuming equipment while implementing cost effective energy conservation strategies for controlling that equipment. This project not only augments the capacity and quality of our chilled water operations, but also allows for exceptionally efficient operations that ultimately will save energy and utility costs."4
---
Additional Infrastructure Upgrades implemented at the Facility include:
New 23 kV 15 MV electrical substation to replace aging 23 kV 9 MW service
5 new emergency generators
Upgraded bulk oxygen system
Extended domestic water, steam, fire protection water and medical gases to new campus buildings
New domestic water service, fire protection water service, medical air and medical vacuum systems for the Terrace View Skilled Nursing building
---